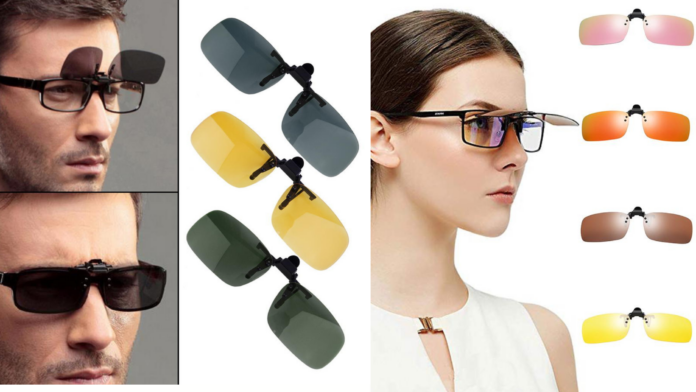 If there's one thing prescription glasses wearers know all too well, it's that there's no way to protect themselves from the sun. Many people want to wear conventional sunglasses, but if you have a vision problem, you need these glasses to be corrective as well, and the solution, until now, has been prescription glasses with clip-on sunglasses.
If you have your conventional prescription eyeglasses and you don't want to spend money on having new ones made to protect your eyesight against the sun, clip-on sunglasses are the ideal accessory to adapt to your prescription ones and be able to expose yourself to the sun without any problem.
What are clip-on sunglasses?
These are basically a complement to your conventional prescription eyeglasses. They are polarized sun protection lenses that you can clip on to your regular eyeglasses and remove them at any time.
These are designed so that you don't have to spend your money on other sunglasses that don't allow you to see well, but adapt dark lenses to your prescription lenses and you can see very well both in the sun and indoors.
Advantages of clip-on sunglasses
Clip on sunglasses are quite useful and here's why they are worth buying.
Easily adaptable
This accessory is ideal for use with any type of prescription eyeglasses, you just have to adapt them to the glasses with just one click, so that they are superimposed on the lenses you already have.
In case you are nearsighted, you will be able to expose yourself to the sun and see objects that are far away without being bothered by the sun's rays.
Some clip-on sunglasses are even magnetic, which are highly recommended for reading glasses. Many online stores carry the complete pack, both the optical lens for reading and the clip-on sunglasses, so you can easily adapt them when you go to the beach or outdoors.
You will save money
By using these types of accessories you won't have to throw your prescription glasses in the trash, so in the end by buying clip-on sunglasses, you will be able to save money, since you won't need to buy others.
These accessories are quite inexpensive, so you will only need the lenses and not the rest of the frame, since the one from your prescription glasses will fit.
They fit various types of frames
Clip-on glasses fit many frames, but not all. It is always advisable to take to the store or tell the online store consultants the type of prescription glasses you wear to find out if they have clip-on sunglasses that will fit.
Ideally, the lenses should match the ones you already have so that they are not so noticeable when you wear them and look as natural as possible.
Conclusion
Clip-on sunglasses are a great way to save money and still be able to protect your eyes from the sun without having to spend a lot of money on new prescription glasses. They are quite easy to adapt to and you can find them in various colors and styles, so you will surely find the ones that best suit your needs. When buying them, always make sure that they fit your prescription glasses well so that they are not too noticeable and you can enjoy the sun without any problem.